EDITORIAL OF THE FORUM
Isn't live performance an opportunity and even a necessity today, since it brings us together in a carnal and human way – actors and spectators – young and old, together?
This is what the Premières Rencontres offer, a biennial event co-constructed by Acta with its partner cities to share committed artistic proposals with their audiences. A faithful and close companionship between all those who make it possible.
This is what this 9th edition of the Premières Rencontres is all about, with 10 performances by involved artists who create and share with the very young spectator something extraordinary from their personal universe and who consider their quality of presence, their feelings, their emotions as manifestations of all the humanity they already carry within them. These are all proposals to "promote their future" and at the same time nourish the parent-child bond.
This is what our partners affirm through their generous support: the Drac Ile de France, the Ile de France Region, the Val d'Oise Departmental Council, the Roissy Pays de France Agglomeration Community and the City of Villiers-le-Bel. We would also like to thank the Génération Belle saison and the CAF du Val d'Oise for having invested in this new edition.
Their constancy and loyalty are now part of the recommendations of the 2017 protocol agreement and these initiatives are praised in the recent report by Sophie Marinopoulos.
So, isn't underlining the research and the ethical and aesthetic commitment of these artists towards children encouraging them to persevere in this dynamic? The Val d'Oise Departmental Council, through its support for the creation of a new show, repeated at each biennial event, is moving in this direction!
Finally, the 2020 European Forum will bear witness to the constantly renewed questioning of the performing arts dedicated to early childhood, in tune with the recent transformations of our societies and the European dynamics implemented by our partners to respond to them.
More than ever, the FIRST MEETINGS, persevering in their vitality, will be delighted to welcome you.
Laurent Dupont
Wednesday 7th October 2020
9h – 11h – Choice of shows (times and venues to be confirmed)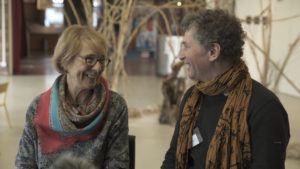 10h00 – Give time to time
Visit of the exhibition created by Agnès Desfosses and Vincent Vergone in the hall of the Espace Marcel Pagnol de Villiers le bel "Libre Jardins d'enfants" and presentation of his book published by Ressouvenances.
11h00 – 11h30
Opening with our institutional partners on their generous and indispensable support for the realisation of the First Meetings and the European Forum.
11h30 – 13h00 – Conference-debate (part 1)
Mrs Sophie Marinopoulos, psychologist and psychoanalyst, presented a summary of her recent report which defines important recommendations on which our various territorial projects can be based: "A national strategy for Cultural Health – promoting and perpetuating the cultural and artistic awakening of the child from birth to 3 years of age in the link with his or her parent.
A work that calls for putting the cultural and artistic awakening at the heart of the health of very young children and the link to their parents".
What does it mean for an artist to go to the end of his artistic gesture?
Round table discussion led by Louise Allaire, playwright (Master's degree at the University of Ottawa), with two artists involved in the creation of plays for young audiences: Eve Ledig (Cie Fil Rouge) and Sophie Grelié (Cie Eclats): "Defining the artistic gesture for young spectators without falling into the trap of sensory development or pedagogy requires a better understanding of an artist's approach, his or her questioning, motivations, research and, above all, discoveries. Do young spectators push the artist to make particular demands? How far does he allow himself to go?
13h – Meal
14h – 16h – Choice of shows
15h45 – Give time
Dialogue with young artists around their artistic signature in the near future Cie CoMcA – "Hôm": An immersive and interactive show to share from 1 year old with Emmanuelle Trazic (scenography and image direction) and Olivier Lerat (music and sound device).
16h15 – 18h – Conference-débate (part 2)
What are the essential issues to promote the relationship with the other and the relational dynamics between young children and adults?
Speech by Evelio Cabrejo Parra Psycholinguist, University of Paris VII: about early childhood and the construction of oral language, the symbolic transmission of language and the symbolic representation of the other, "the dance of time" in language acquisition.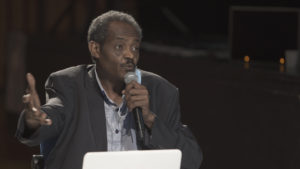 Intervention of Isam Idris; Ethno psychiatrist at the CHU Avicenne/Centre Babel for a reflection on transculturality which allows to approach the notions of cultures and civilization, shaking our certainties and questioning the artistic research and the professional practices. A reflection on "being together".
18h00 – 18h30 – « Inside-Out » – Salle Jacques Brel – VILLIERS LE BEL :
Presentation of a project from Erasmus +, to share between children and adults.
"Inside-Out" is a visual and choreographic research by three artists who met and worked together in the Erasmus project for two years (2017-2019). Participating artists: Matt Addicott, Brian Hartley, Anne-Beth Schuurmans, Elian Smits, Dennis van Tilburg.
"During experiences with young children, they were challenged by possible interactions between two spaces 'inside and outside'. They developed a methodology during exchanges/meetings with toddlers and their parents, through an installation: a shared space where they engage and pursue their artistic exploration with participants from different territories.
Thursday 8th October
9h – 11h – Choice of shows
10h00 – Give time to time
Visit of the exhibition created by Agnès Desfosses and Vincent Vergone in the hall of the Espace Marcel Pagnol de Villiers le bel "Libre Jardins d'enfants" and presentation of his book published by Ressouvenances.
During morning
Exhibition-presentation of photos and their own toys made by Ivorian children. Parallel presentation of the creativity and ingenuity of young children in and with nature, in Europe and in Africa, presented by Jean Michel Anouman Adiko of the "Fondation Cultures d'Afrique-Cultures du Monde" (Abidjan – Ivory Coast) in the continuation of our reflections engaged thanks to the exhibition "Enfance, chercheurs d'or" (Childhood, golden seekers) and the Erasmus + Project
11h -13h – Conference-debates (part 1)
How the main components of the sensory and cognitive experience of the very young – favouring their openness to the world and to the Other – question the research of artists for creative issues and the parent-child relationship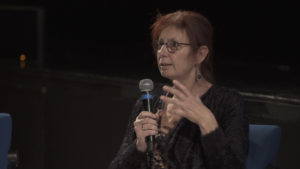 3 artists' interventions :
Presentation by Margotte Fricoteaux – musician and trainer at Enfance et Musique: "Singing with parents in their language(s); reaching out to families through family repertoires, to accompany the child in the construction of his or her thoughts and discovery of the world. Building elements of a common culture".
Presentation by Eleonora Ribis – Melampo Company: How does a gesture make "sense" for the person performing it (the performer) and for the person interpreting it (the spectator)? What dynamics are involved? What symbolic "transmission" takes place? "A central element of my research is the hands because they seem to me to be a very powerful symbol of transmission, one of the first elements with which a baby enters into a relationship and communicates with the world.
Intervention by Vincent Vergone-Cie Praxinoscope :
Welcoming a child's gaze: I have the feeling that young children first perceive things in a global way, they "feel" the atmosphere, the relationships between colours, sounds, smells, emotions. They read the world with an open heart, grasping us with all their innocence and their capacity for wonder. I would like to live up to this childlike sensitivity, and for me this is the difficulty and the deep meaning of my artistic approach.
13h – Meal
14h – 15h – Choice of shows
Presentation of the book Pistoia, by Sylvie Rayna. Une culture de la petite enfance (Éditions ères) to extend the intervention of Donatella Giovannini at the First Meetings in 2016.
14h – 16h – Choice of shows
15h30 – Give time
Dialogue with young creators about their artistic signature in the near future Cie Skappa et associés – "Click! a visual and musical show for nurseries and elsewhere with Marie Salemi (actress-singer). With Anne Van der Meulen.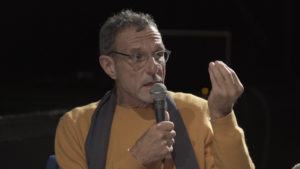 16h – 17h30 – Conference-debate (part 2)
To enhance cooperation and mutualisation through projects and territories: To question our strategies, their practices, their contexts.
How to ensure their sustainability? How to improve them? How can we bounce back together for new projects?
Meeting/debate between the partners of two European projects:
Erasmus +
Rhona Matheson (en visio-conférence) – Scotland, Ingrid Wolff – Netherlands, Laurent Dupont – France.
Mapping European Project
Michael Lurse, Helios Theater – Germany (en visio-conférence).
17h30 – 18h – Donner du temps au temps
Presentation of the sound and visual show project, "Là… Pas là! (from 18 months) by the Compagnie Acta presented by Laurent Dupont.