Son free son
Médiane Co.
Created for the Premières Rencontres 2014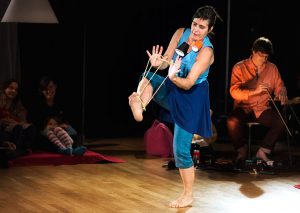 A show of knitted music for toddlers and their families. With a couple of lovers and a few musical notes. She sings… He makes the strings vibrate. A step towards him… a note towards her. The music of glances is sketched out, runs along the woolen threads, hesitates then swells until it carries us away in a great musical hug. Son free Son is a musical show for toddlers and their families, a first artistic experience to be lived together comfortably installed in the hollow of cushions and arms, where love takes the path of notes gathered in solo, in duet, to reach the choir… in the heart… So true is it that we need the other to grow.
Conception, direction: Catherine Sombsthay
Conception, song, acting: Emmanuelle Zanfonato
Conception, music, acting: Bertrand Sombsthay
Stage design collaboration: Thierry Cadin, Pierre Gattoni, Dominique Hardy, Quentin Charrois
Photo graphic designer: Bart Kootstra
Coproductions : Espace Culturel de Vendenheim, Graines de spectacles Clermont-Ferrand, City of Schiltigheim, TJP Centre Dramatique National d'Alsace Strasbourg. Supporters : DRAC Alsace, City of Strasbourg, Région Alsace, Conseil Général du Bas-Rhin, Communauté de Communes de Berstett.
This show, produced by La Compagnie Médiane, was supported by the Conseil Général du Val d'Oise as part of the Premières Rencontres 2014.
The feature
Caminos/Chemins
Titeres de Maria Parrato Co.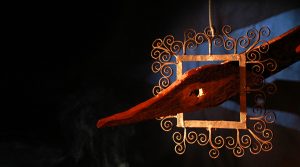 Objects, pieces of wood, stones, smoke, drops of water.
In the air at the end of a fishing rod, a wrought iron frame swings.
This is the place of suspended time where the objects appear.
These objects, on entering the frame, undergo a transformation, and, from that moment on, time stretches…
Actor: Maria Jose Frias
Direction: Carlos Laredo
Artistic direction and production: Titeres de Maria Parrato
The feature
Paradéïsos
AMK Co.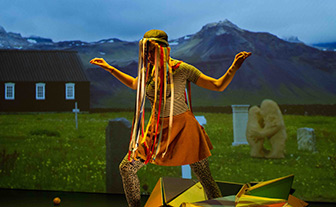 What if Paradise existed on earth, thanks to such a quality of exchange that we could rethink everything: the earth, ourselves and others?
"Paradéïsos" is the choreographed dream of a harmonious ecosystem, offering children a joy of living, in the heart of an Iceland populated by small dancing beings. Wonder, metamorphosis, hatching, giving birth. These vital forces take shape in a gentle swirl of cycles, punctuated by the magic of an object that gradually unfolds its multiple facets.
Animated images, music, songs, dance and sculptures are articulated in three gardens of delights, three spaces to offer ourselves here below the time of a new Genesis.
Conception, stage design and video direction: Cécile Fraysse
Live music: Alexandre Lévy
Dance: Valentine Paley
Post-production and animation collaborator: Frédéric Poulain
Lighting design: David Boots
Co-production Espace Boris Vian, scène conventionnée jeunes publics des Ulis, Espace Périphérique La Villette, festival Petits Bonheurs/Les Casteliers à Montréal (Québec).
Creation residencies : La NEF à Pantin, Espace Germinal à Fosses, Espace Périphérique La Villette / Partners : Festival Fontenay en Scènes, Centre Culturel de Persan, Théâtre Dunois Paris, Compagnie ACTA through the PREMIERES RENCONTRES.
With the support of the Conseil Général du Val d'Oise. The AMK company is supported by the DRAC Ile de France and the Ile de France Region.
The feature
Dal Vivo
Flop Lefebvre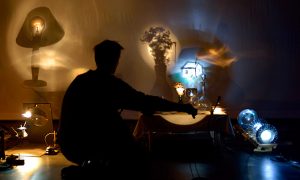 Construction, "dal vivo! / sur le vif!", of a light painting.
From an old-fashioned device, manipulated and lit entirely on sight, a living and fragile image appears on the wall. An ephemeral painting in which light particles replace pigments. The "witness painting" of a moment in which reflections, shadows, blur and sharpness are organised according to attempts and accidents into an empirical and poetic composition. A performance on gesture and light for all audiences from a very young age.
Conception and interpretation: Flop Lefebvre
Photo credit: Jef Rabillon
Co-production Le Channel, Scène Nationale de Calais – A.T.H. Associés, Lili Désastres.
The feature
Petit Câlin
Dance Theatre Auraco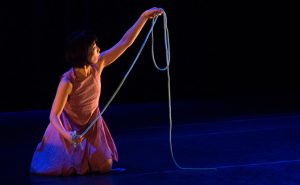 The dance performance Petit Câlin is like a gentle embrace where the audience is invited to concentrate and relax, to laugh, to cry, to be very serious; where there is room to desire and to be comforted. The idea and the name of the piece come from the French expression "petit câlin", which corresponds to the way of holding a newborn baby in one's arms. The play of movement with a space limited by a rope on the floor, the voice and the lights transport the audience from one emotion to another.
Concept and direction: Päivi Aura
Choreography: Päivi Aura, Takako Matsuda
Music: Philippe-Marcel Iung
Lighting: Keijo Vainio Costumes : Piritta Kämi-Conway
Dancer: Takako Matsuda
Musician: Philippe-Marcel Iung
Photos: Rene Korpela
Poster: Keanne van de Kreeke
Production : Dance Theatre Auraco
The feature
Ho un punto fra le mani
Tam Teatromusica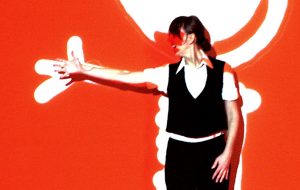 A body dialogues with the silence of a moving point in space, the poetry of a curved line evoking a smile. Accompanied by music, it immerses itself in an explosion of colours, both food and perfume… So many sensations to invite the little one to dive into this mirror of images.
Conception and direction: Flavia Bussolotto
Live digital design: Alessandro Martinello
Music: Michele Sambin
With Flavia Bussolotto
Production : Tam Teatromusica
The feature
Stoplicht (red light)
wiersma & smeets co.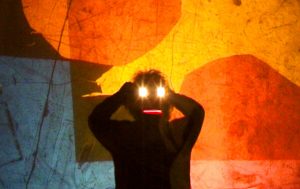 A little light-white man wants to see his friend, the little red light man. But it's not easy and before they meet each other, they have a long journey through a strange country full of lights. A great adventure!
Why does the little man change his colour to red? Why does the little green man never want to stay in his place?
Idea and creation: Bram Wiersma & Moniek Smeets
Music: Bram Wiersma
Production : wiersma & smeets
The feature
La Campagne en secret
Les bruits de la lanterne Co.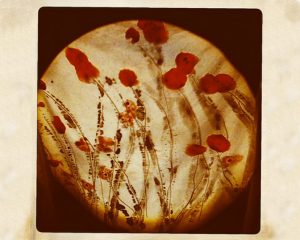 Large white cloth drapes are installed above and on each side of the stage, a small motorized object with a strong light intensity moves slowly and puts in shadow branches, grasses, flowers… a whole nature path.
In the pleasure of slowing down time, perceiving the day that rises, the night that sets in, listening to the song of a flowing river… taking the time to rest in front of these reconstituted beauties.
Poetry and music accompany this journey together.
Direction: Catherine Morvan and Jean-Claude Oleksiak
Actor, singer, object manipulator: Catherine Morvan
Musician: Jean-Claude Oleksiak
With the support of the Conseil Général de Seine Saint Denis, the Théâtre de Vanves, the MJC de Chilly Mazarin, the City of Neuilly sur Marne and the ACTA company as part of the PREMIERES RENCONTRES.
The feature
Tic Tac Tic Tac
Casa Degli Alfieri Co.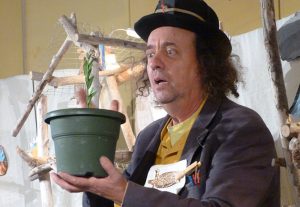 Micro-narratives, small actions, delicate, whispered movements, without words. Stories punctuated by particular clocks that speak of past and present time. A simple scenography, a "fragile world" made of houses made of natural materials (branches, leaves, earth, seeds, snowflakes…), small lights and clocks, poems of tender, silent and sometimes clownish movements.
With: Antonio Catalano
Direction and stage design: Antonio Catalano
Technical manager: Matteo Catalano
Organisation and tour booking: Claudia Ponzone
Administration: Franca Veltro
Production casa degli alfieri – universi sensibili
The feature
Le jardin sous la Lune
Praxinoscope Co.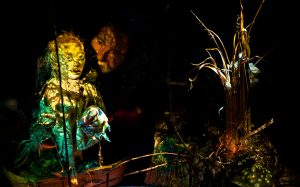 A garden in the half-light, under the moon, a real garden, a representation of the world in miniature with its geography, paths, moss, an old stump, a shrub. A garden for children, a space of freedom with musical instruments, poems, smells, a marvellous garden with luminous projections, apparitions of images on mists, water, sails, plant sculptures, micro-gardens suspended here and there as invitations to dream…
Creation and direction: Vincent Vergone with text from Marcelle Delpastre
Actors: Vincent Vergone or Emilie Pachot
Musicians: Marion Loraillère or Muriel Gastebois
Costumes : Amano Louis
Artist in residence at the Les Treize Arches – Nouveau Théâtre de Brive Cocreated with the Théâtre Dunois With the support of the Drac Ile-de-France, the Île-de-France Région, the Seine-Saint-Denis District, the Mairie de Paris, and the cities of Aubervilliers, Sevran, Stains, and Le Bourget, of the Théâtre de la Montagne Magique in Brussels, the Amin Theatre Company – Salle du Jardin planétaire and the Festival 1,9,3 Soleil. Selected by the Printemps des Poètes
The feature
Ōuli
Cincle Plongeur Co.
Ōuli means "nature" in Hawaiian. Metamorphosed into a half-animal, half-plant princess, choreographer Anne-Laure Rouxel sets off, to the rhythm of songs composed for the occasion by Julie Bonnie and the sounds of nature, to encounter this luxuriant diversity: its marvellous abysses, its dazzling heights, its vitality and its profusion of life.
It plays, learns to feed, to heal, to defend itself and to hide… it makes do with its splinters, the earthquakes, the storms…
She gives life, rests in the warmth of her family…
A journey of initiation where dance gives way to play, fantasy and ritornello.
Conception, choreography and interpretation: Anne-Laure Rouxel
Music and song composition and interpretation: Julie Bonnie (voice, violin and guitar)
Lighting: Franck Thévenon
Stage design: Patrick Genty
Costumes: Catherine Lourrioux
Production : Cie Cincle Plongeur with residency support from the Espace Malraux/ City of Joué les Tours (37). Cocreated with Théâtre du Beauvaisis. With creation support from the Direction Régionale des Affaires Culturelles Centre – Ministère de la culture et de la communication, the Conseil Régional de la Région Centre and the Conseil Général d'Indre et Loire et de la Spedidam.
The feature
La Caverna Sonora
La Casa Incierta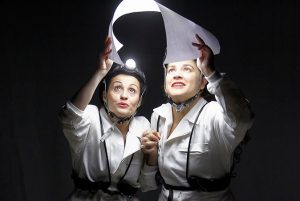 An actress, an opera singer and a pianist take us energetically on a poetic journey, an opera for adults, babies and very young children, together discovering the first stammerings, babblings, words and words. A journey through the throat, the cavity of the mouth and the skull, echoing the sensation that a toddler can feel when he tries to communicate even before verbalising.
Actors: Clarice Cardell, Maribel Per, Mikhail Studyonov
Costumes: Val Barreto
Music direction: Mikhail Studyonov
Dramaturgy: Carlos Laredo, Miguel Angel Mendo
Direction: Carlos Laredo
Created by : La Casa Incierta Co-production Ayuntamiento de Madrid, Teatro Fernán Gómez, La Casa Incierta
The feature