Debout de bois – Company L'Oiseau Monde
It is the story of a little being – made of wood – who is born into an unknown universe, who learns to discover the world, his world. First of all, he learns to grasp its contours, its extremities. Then to build a shelter. Little by little, he worries about the details, searches, discovers, tries, fails, tries again, rises. It is also the story of an encounter, strong, essential, which will change everything. Finally, it is the story of the before, the after, and the hope: nothing is ever totally finished, everything changes, just like this little world of sand and wood.
Distribution
Conception, performance : Sarah Camus
Scenography : Julien Lett
Sound design : Jérome Boyer
External advices : Eleonora Ribis, Alexandra Lucchesi
UP ! – Company LagunArte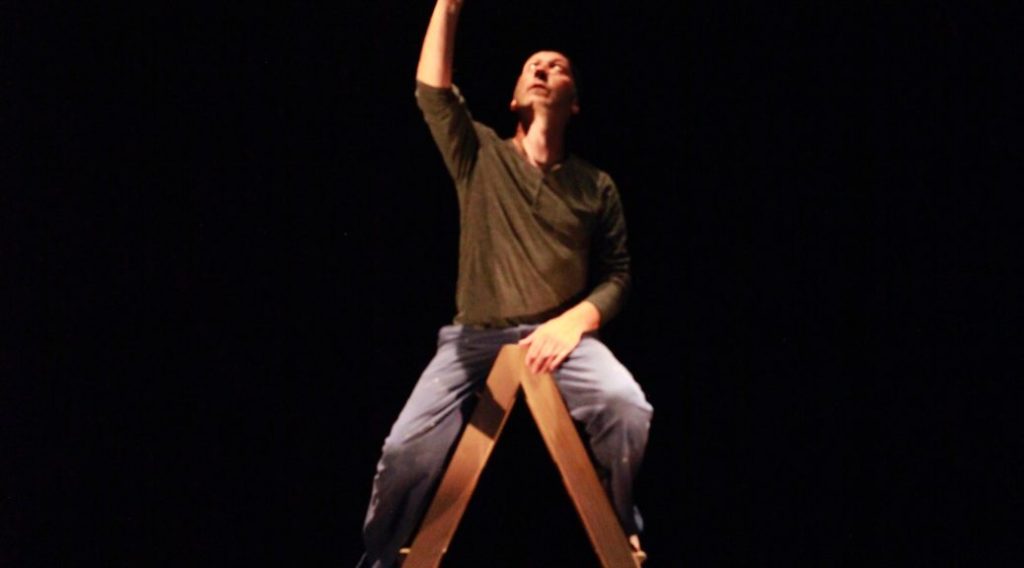 UP is a short word that expresses the top in English, but in Basque it is an interjection that calls for caution. The child is growing up and this is a constant preoccupation, the adult even encourages him to go faster, sometimes too fast. This show is the metaphor of a personal construction, of the extraordinary elaboration of what one becomes.
Distribution
Writing, stage direction, scenography : Kristof Hiriat
Voice, drums, movement : Kristof Hiriart
External advice : Maryline Pruvost, Jérémie Ternoy
Sound : Patrick Fisher
Lights : Antoine Decembri
Scenography : Johann Praud, Patrick Fischer
Administration, production, diffusion : Maite Garra, Annick Irungaray, Christine Garay
Rêve d'air – Company La Tortue
This show is part of the triptych "Nos Palais Intimes" with Rêve de Pierre – hosted as part of the Pépite programme in 2020 – and Rêve de Fer. The main theme of these shows is the monumental work of the Facteur Cheval. With this more immersive form, the artist questions the relationship between the stage space and the audience. It will be the result of extensive research during residencies in nurseries.
Distribution
Conception, performance, voice, kora : Delphine Noly
Stage direction : Anne Marcel
Lights : Alice Huc
Technics, scenography : Simon Chapellas
Roy s'endort, a winter's tale – Thomas Casey
"Why sleep, if I can dream awake?
It's evening, a winter's evening, time to go to bed, but Roy doesn't want to sleep. He looks at the moon. He thinks about his day, about everything he has done. He gets lost in his daydreams; he likes to dream, but he doesn't like to sleep. He likes to dream awake. So in order not to fall asleep he gets up, starts dancing, singing. Unless it's a dream…
Distribution
Conception, choreography : Thomas Casey
Dance, voice and performance : Thomas Casey
External advice : Céline Schnepf – Cie Un chateau en Espagne
Music : Marie Braun
Sound design : Erwin Toul
Lights : Antonin Liège
Artistic companionship : Cie La Farfalla Marie Braun
Production / diffusion : La Forge des Choses
Früh Stück – Helios Theater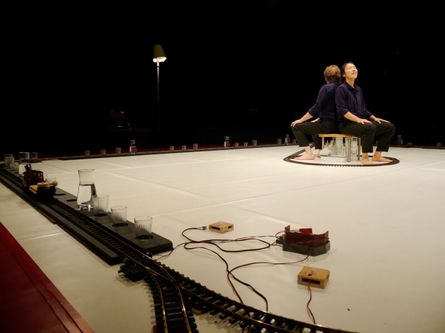 What do we hear when we listen? How does the room sound around us? And when does the music start? A musical breakfast that unfolds around a railway track: a player explores the sound of things, bodies, others and themselves, a rhythm is built, a melody, a song, an audio landscape grows in our ears and before our eyes. An invitation to "Breakfast" – not only for the ears…
Distribution
Stage direction : Michael Lurse
Performance : Minju Kim
Scenography : Michael Lurse
Technics : Jan Leschinski
Music : Michael Lurse, Jan Leschinski
Manta – Company Klankennest
Inspired by the peaceful and hypnotic movements of the giant manta ray, the show invites exploration, wonder and play. The youngest children venture out and manipulate the device, its sound objects, its light effects, its wooden and fabric elements.
Variations of rhythms and improvisations, singing, percussion and cello make up this exciting journey towards the secrets of the sea bed.
This show makes you want to be a baby again.
Distribution
Conception, artistic direction, voice : Liesbeth Bodyn
Conception design, scenography, technics : Jeroen Van Der Fraenen
Cello, voice, composition : Annemie Osborne
Drumbs : Aya Suzuki
Composition : Tine Allegaert, Rebecca Van Bogaert, Indré Jurguleviciute
Racines – La Minoterie – Petits Bonheurs
A child has to deal with the detachment of his parent. He or she wonders why, day by day, this parent is moving away? Alone in a forest of emotions, the child must learn to navigate these troubled waters between fusion and feelings of abandonment. "Racines" is the inner monologue of this child from 18 months to 3 years old who deals with the delicate sensation of an inescapable rupture between him and his parent.
Distribution
Author and stage director : Elie Marchand
French performer : Jade Thénier
Quebec performer : Zoé Delsalle
Scenography and costumes : Anna Panziera
Sound design : Andréa Marsolais-Roy
Lights : En cours
Technics : Aurélien Chevalier
What is that ? – Company Aaben Dans
Curiosity is the most powerful engine when a small child discovers the world. A drive that can last a lifetime. Through movement and dance, the dancers explore both body and space without taking anything for granted.
Distribution
Stage direction: Thomas Eisenhardt and Kamilla Wargo Brekling
Dancers : Antoinette Helbing and Ole Birger Hansen
Scenography and costumes: KASPERSOPHIE
Composer: Fredrik Lundin
Technics and production: Elke Laleman
Production: Madeleine Lind Hoppe
Photographer: Ditte Valente
Graphic design: Line Thornberg
Costumes: Cynthia Coussieu and Gunilla Nordby
Produced by Aaben Dans
Nid – Company AMK
It is a reverie in the middle of the elements and materials common to all living things that is proposed. Births, transformations, arborescences, punctuate the discovery of gardens of sensations created in fabrics and plant colours, and inhabited by an acrobat whose balancing and suppleness games participate in immersing the public in the heart of an almost meditative contemplation.
Distribution
Scenography and stage director : Cécile Fraysse
Performance : Iorhanne Da Cunha
Sound design : Dominique Duthuit et Julien Fezans
Choreography : Nancy Rusek
Technics : Julien Hatrisse
Lights : Gilles Robert
Drawings : Cécile Fraysse
Intervention yoga : Anne Buguet
Scenography interns : Louise Aufort et Mathilde Leloup
Embroidery : Léna Émeriau Bonjour et Mathilde Leloup
Stage direction intern : Célestine Fisse