Between the end of 2018 and 2021, a team of artists from the theatre companies ACTA, Les demains qui chantent, and Lunatic carried out actions (workshops and training) with young children and early childhood professionals in the Val-d'Oise department as part of a CLEAJE (Contrat Local d'Éveil Artistique du Jeune Enfant – Local Contract for the Artistic Awakening of Young Children) project, carried out in the agglomeration of the Haut Val-d'Oise in the towns of Beaumont, Mours, Nointel, Persan and Ronquerolles.
2019 – 2020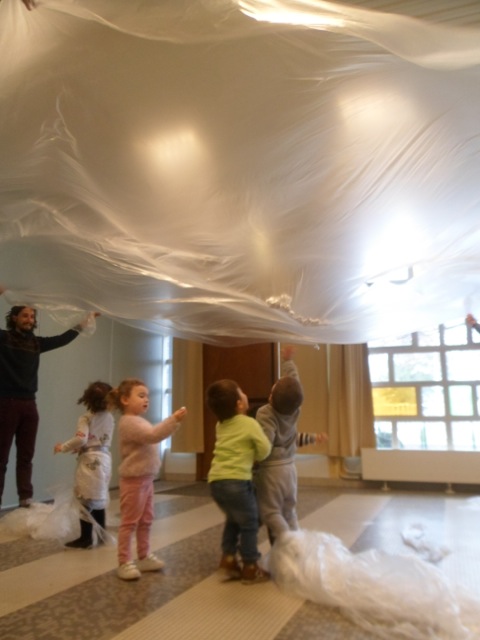 2 training sessions with the teams of our partner early childhood organisations in November 2018 and January 2019: how to position oneself at the intersection of the artistic and one's profession in an early childhood organisation? How to create a creative and artistic approach involving parents, children and professionals?
Workshops on art and nature, led by Laurent Dupont, Pauline Delmotte and Guillaume Jouanin.
5 partner organisations in Beaumont-sur-Oise: the RAM, Le Phare, Babilou, Nid D'anges, and the LAEP of Boyenval.
2021
For this second phase, ACTA proposed new workshops in the Beaumont-sur-Oise nurseries (Babilou, le Phare, Nid d'anges) between January and July – 3 to 4 days per month with two workshops per morning. The project was also opened to a kindergarten school thanks to the support of the town: 2 workshops per month took place with a first years class of the Paul Fort kindergarten between January and June. The aim of this edition of the project was to create real bridges between the nursery and kindergarten, including professionals, teachers and parents.